Michele Schroeder
Realtor®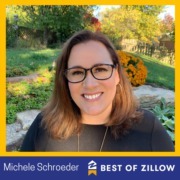 Life is full of enough surprises.
You don't need any when you are buying or selling a house! My
experience in the title industry, the mortgage field, and the real estate
business for the past 22 years makes me uniquely qualified to guide my clients through their own real estate journey.
Knowledge creates confidence.
Confidence in my field helps me to be a better advocate for my clients. It is because of that mindset, that I am driven to constantly educate myself in the real estate market. I continually study market trends and home values so I can be sure my clients are getting everything they deserve in an agent.
When it comes to selling your home, there is a lot more than placing a sign in the yard. I am confident that I can guide you on how to prepare your home for sale and market it to the right buyer. I do all the research behind the scenes so that your experience is as simple and "surprise"-free as possible.
*As a "Best of Zillow" agent, I maintained a 96% Customer Service
Score, putting me in the top 1% in the United States. I am often asked by other agents who are hoping to increase their score how I did it.
My answer is simple:
"I truly love what I do. I put myself in their shoes. I treat people the way I want to be treated, with kindness, respect, and honesty. No scripts, no pressure. When you are doing something as huge as buying your home, it can be overwhelming. You need to work with someone you feel like you can really rely on. I think when you genuinely care, people can feel that. That makes all the difference."

I